Rowing Coach awarded Portland Police Bureau's Life Saving Award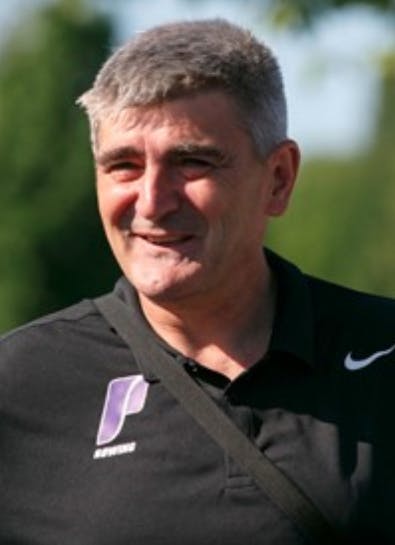 Plamen Petrov, who has worked as assistant rowing coach at UP since Jan. 2016, was awarded the Life Saving Award by Portland Police Bureau. Photo Courtesy of Pilot Athletics.
University of Portland assistant rowing coach Plamen Petrov received the Portland Police Bureau's Life Saving Award on Nov. 16. In late July, Petrov performed CPR on an unconscious rower whose boat had flipped over. According to the Portland Police Bureau, the is presented to any sworn or non-sworn Bureau member or community member who saved the life of another person.
Petrov earned a master's degree in sculling, sweeping and physical fitness in his native Bulgaria and is the head coach at . He was in his coaching boat on the Willamette near Oaks Park, where many rowing teams practice, when he saw a single person rowing boat flip over into the Willamette River. He said that he initially wasn't worried because rowers' feet are strapped into the boats, and the athletes can usually kick out and turn the boat over.
However, Petrov said that he soon realized that he couldn't see the rower's body but knew he was breathing underwater because he could see bubbles. The rower was Bill Byrd, of the Willamette Rowing Club. He had experienced a heart attack while in his boat, lost consciousness and flipped.
Petrov, who has been at UP for nearly two years, described the moment as one in which there wasn't time to "think about anything." Instead, he pulled Byrd out of the water, brought him into the coaching boat, and started performing CPR and continued for 20 minutes until first responders arrived. Petrov had to be cautious bringing Byrd into the launch due to it being a relatively small 12 by 14 feet, UP rowing head coach Pasha Spencer explained.
"He had to pull him in, step back to recenter his weight, pull him in again, step back, recenter his weight, pull him in again, and then he had to roll him over. By then his forearms were burning, he had tweaked something in one of his arms," Spencer said.
Spencer also noted the extraordinary duration of the CPR and said that most people perform CPR with a partner and take turns due to its exhausting nature. Petrov said that he took a short break from CPR to drive the coaching boat back to the dock, where someone called 911. When first responders arrived, Petrov said, he fell exhausted on the dock. He said that paramedics came to rescue him because they thought he was the one who had suffered the heart attack. Though he was tired after helping Byrd, Petrov's intervention was effective. Byrd survived.
"No damage, everything is fine because we started the CPR in time," Petrov said.
But Petrov doesn't want to be seen as a hero. He said he did what any coach would have done and chalked his CPR performance up to being conveniently near Byrd when he experienced the heart attack.
"I think (every) coach from rowing (would) do that so quickly. I just was in the right time and the right place," Petrov said. "Too many people tell me, 'Very good job.' I know it's a good job, but everybody (would do) that — everybody. We are professional rowers...everyone knows how to do that."
Spencer said that the news of Petrov performing CPR on Byrd corresponded to his character and training.
"It doesn't surprise me that Plamen went into emergency response mode and was able to handle the situation correctly," Spencer said.
Captain of the rowing team Alyssa Soete said she was not at all surprised to hear of Plamen reacting so quickly. She said that he always puts others before himself and recalled how he always buys a gift for his two daughters from every location where the team competes. Soete said that the attention he shows them represents the care he shows the rowers.
"He always goes that extra mile to put us before him. And he's always aware of safety— hyper aware of it," Soete said.
At the ceremony last Thursday, where three other people connected to the incident also received the Life Saving Award, Petrov said that he felt uncomfortable with the attention. He said that he thinks Byrd wanted to recognize him for his actions and may have nominated him for the award.
"When I see (Bill), I understand he need that. When I see eyes, I understand Bill is happy. And this is, for me, what's important," Petrov said.