Music major studies opera from UP to Italy
Catherine Jacobs is a vocal performance major at UP.
As many students headed to their hometowns for summer break this year, Catherine Jacobs instead packed her bags to spend two weeks studying opera in Italy. The program ended just in time for Jacobs to return to UP just in time for her senior year and her RA training.
Jacobs, a senior vocal performance major, is 5 foot 1 with a big voice. She sings mostly opera and classical music, and balances her schoolwork with voice lessons, conducting the Wind Symphony, singing in the University Singers and working as an RA in Fields. For the last two summers, she studied opera in Italy with two prestigious programs at the Music in the Marche and at the Brancaleoni International Music Festival.
"Opera requires the entire voice, not just the chest voice and broadway belt," Jacobs said. "Not just really high notes and whistle tones. It's everything, start to finish and in-between. It takes a lot of time and patience."
Jacobs' typical week consists of voice lessons, voice coachings, conducting private lessons, lyric theater workshop, music history class, singing in the University Singers, vocal performance workshop, involvement in UP's ministry, an on-campus job and her duties as an RA.
Jacobs is the Student Associate Conductor of the UP Orchestra. The current director is on sabbatical this semester so the group will not practice until the spring. Jacobs is also a conductor of the Wind Symphony.
"Dr. Murphy who directs the Wind Symphony has taken me under his wing and is allowing me to study with him as well," Jacob said. "Which is great because it's two different experiences. I would have assumed they're the same thing because I'm a vocalist, but (conducting Orchestra and Wind Symphony) have very different needs."
Her interest in singing and music began when Jacobs' parents signed her up for piano lessons in first grade. During middle school, she started voice lessons, but opera singing did not become a part of Jacobs' life until high school.
"My teacher my junior and senior year of high school was an opera singer who had settled down and was now teaching in southeastern Washington," Jacobs said. "I really wanted to sing opera once I started taking lessons from her."
The style and musicality of Jacobs' voice has developed significantly since she was in high school, but she said her voice won't fully mature until around age 25.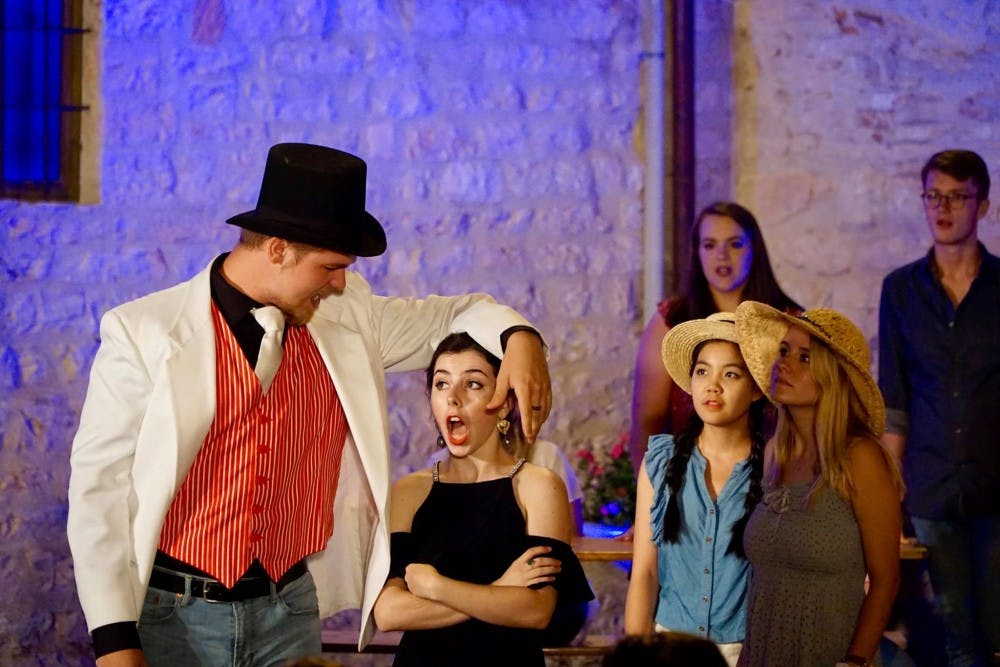 Opera training is difficult and takes extensive practice, but as Jacobs' voice matures, she said she has reached a register that makes it possible to study with the professionals.
After sophomore year, Jacobs spent a month in Italy studying opera through a program called Music in the Marche. The intensive program included two voice lessons a week, two coachings a week and three-hour Italian class Monday through Friday.
This past summer, Jacobs was part of a two-week program, Brancaleoni International Music Festival in Piobbico, Italy. There she understudied the lead role, Adina, in Gateano Donizetti's "L'elisir D'amore." In just two weeks, they rehearsed and put on the opera and additional recitals.
The music department encourages music majors to find performance, understudy or conducting opportunities either abroad or within the states, Jacobs said.
"It's our equivalent of an internship almost," Jacobs said.
Such opportunities allow students to gain experience, networking abilities and inspiration from professors, and learn important lessons outside of the classroom.
"It taught me what was hindering my ability to grow and progress," Jacobs said. "I end up being a perfectionist...My voice is enough. I am enough."
When she's not performing abroad, Jacobs can often be found singing at hall masses.
"Everytime I hear her I'm just in awe because it's this tiny little woman and then all of the sudden it's this huge voice that fills up," Haley Coad, fellow university singer and Fields resident.
Jacobs also attends her local Catholic Church when back home in Tri-Cities, Washington.
"Even the congregation will take notice that every time she comes back to sing, she just gets better and better," Catherine's sister Alli Jacobs said.
Jacobs has goals to continue in the world of opera and possibly pursue a Broadway career.
She said: "Once again, music is not a very popular major and I always joke, either I'll be singing at the Met or I'll be begging on the streets."