Pilot signs four-year mountain running contract with Nike
Tayte Pollmann after finishing fourth in the World Mountain Running Championship. Provided by University of Portland Athletics.
He had done this many times before. His whole life, really. It was just another trail, another race. So he would do what he always did: watch his step, maintain a steady rhythm, and keep moving. There were no nerves; no worry. He was competing for the fun of it.
Little did he know just how important this race would be.
After winning a career-changing race this summer and getting the attention of sponsors, Pilots cross country runner Tayte Pollmann made the decision to sign a professional running contract with Nike. He will compete as one of Nike's "trail athletes" on the company's Trail Team for the next four years, ending in 2020.
"We had no idea when we recruited him that something like this would even be possible," said cross country head coach Rob Conner. "But he's really taken off."
Pollmann, who specializes in long-distance "sky running" — a type of mountain running at high elevations — turned heads when he finished first in The Broken Arrow Skyrace in Lake Tahoe in June. He completed the 52K event, finishing in first place with a time of 5:03:17 and received offers from sponsors like Solomon and Ultra soon after the race.
"It all kind of happened unexpectedly," Pollmann said. "Immediately after that race, I had several sponsors asking me if I had plans to go pro in mountain running...to see if I wanted to be their athlete."
After discussing his options with his coach, Pollmann decided to wait to see if any other sponsors would make offers. Sure enough, only about a week after the race and initial offers, Conner received a call from a Nike representative who asked about Pollmann.
"[The representative] got into contact with me and made a really good deal. So I just decided to kind of go with my gut there," Pollmann said. "...throughout all of this my coach was supporting me, too, which was really cool because he knew he was going to lose an athlete. But at the same time he recognized that an opportunity like that doesn't come along very often. So when it does, you should take it."
Growing up in Sandy, Utah, Pollmann had his choice of tough trails to run — mountain trails with steep inclines and obstacles that forced him to pay close attention to where he placed his next foot.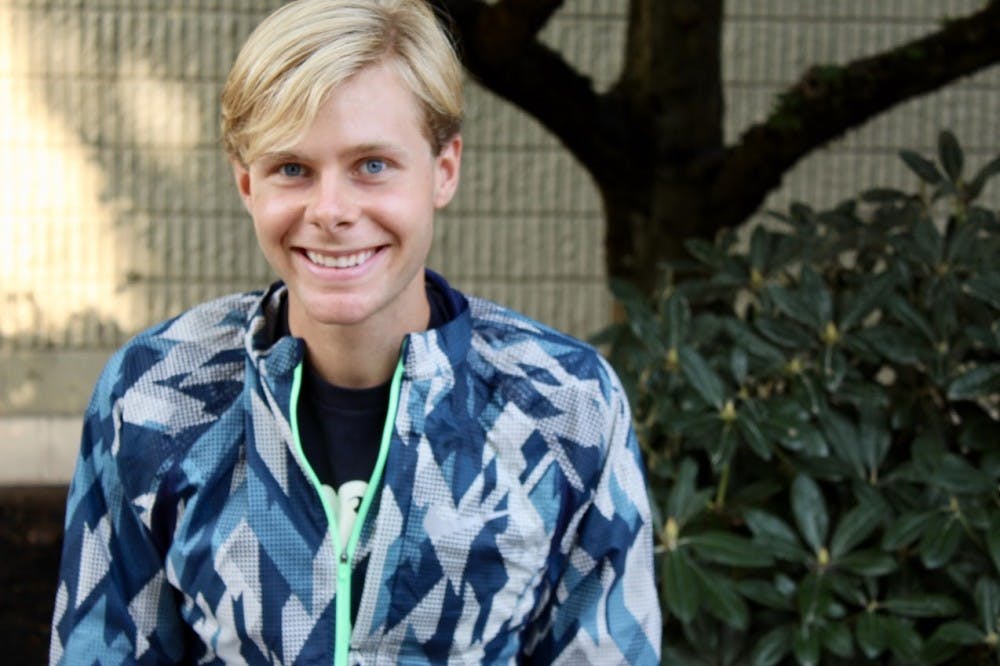 He first started running on these difficult paths to stay in shape for what he thought was his main sport, tennis. But going into his freshman year of high school, Pollmann fell in love with his training routine. He put tennis to the side and joined his school's cross country team. Noticing the runner's talent for long and challenging trails, Pollmann's high school coach invited him to compete in the 2015 Jupiter Peak Steeplechase Race in Park City. Seeing as he already did most of his running in the mountains anyway, Pollmann agreed to do the 16-mile course.
Naturally, the "mountain goat," which Pollmann would later be dubbed by his fellow Pilots, completed his first ever major trail race — and won.
"I thought 'oh, maybe this is where my strength was the whole time," Pollmann said. "Not on the track or cross country, but just running where I'm normally training.'"
As Pollmann reached the end of high school and started contacting coaches in hopes of running at a collegiate level, Conner offered him a spot on the UP cross country team, seeing potential in the skills he learned through mountain running.
"I wanted to get into the best school that I could, but also the best running program that I could," Pollmann said. "And so UP was the perfect fit."
And just as Conner had suspected, Pollmann did not disappoint his first year as a Pilot. He improved a lot of his times, and even got better personal records than he had in high school, like getting a 5K personal best of 16:09.
"When he came to us, his times weren't that fast," Conner said. "But, [I] could see a passion in him when I met him. And we said 'yeah, we'd love to have you on the team' because we thought he would give us something: hard work, motivation, organization. He brings something to the table."
Despite his immediate success, Pollmann still felt a greater passion for the mountain trails than the track. But, since mountain running is still a relatively new sport, and UP has no trail team, Pollmann needed to go outside of his regular cross country routine to run where he ran best.
Luckily, Conner was more than willing to foster his athlete's strengths. He has helped integrate Pollmann's strength in mountain running into practices, setting up a different schedule for him and allowing him to do other races during the season.
"I'm sure a lot of coaches won't let their athletes just go run a 50K during season because it's kind of crazy to do that," said Pollmann. "But for me he was always willing to do that. He just supported that I like to do this sport."
Conner also looked for an opportunity to put the "mountain goat" in his natural territory. He helped Pollmann earn a spot on the U.S. Junior Mountain Running Team to compete in his first international race: the Junior World Mountain Running Championship in Wales. As a college freshman, Pollmann finished in 16th place and helped earn silver for the U.S.
Throughout his second year at UP, Pollmann continued training, aiming for a certain amount of elevation gain each week. He was hoping to compete in another international race; this time, for the official U.S. Mountain Running Team. In October 2016, he went out to Flagstaff, Arizona to run a qualifying race for the 2017 Championship. Winning the race meant securing a spot on the U.S. team. Pollmann, unfortunately, fell behind in a sprint finish, coming in second place instead.
All Pollmann could think about for the rest of his sophomore year was whether or not he had done well enough to still make the team, even though he didn't win the qualifying race. But in May, he found out that he had, in fact, earned one of the five spots on the U.S. team to race the 32K event in Premana, Italy, where the World Championship race would be held on July 30th.
"I was just so excited to make it," Pollmann said. "I'd be competing against professional mountain runners. People from all over the world. The best that the countries have...It was a different experience in that way, not knowing how good the competition would be. Without knowing where I would fit in."
About a month after receiving this news, Pollmann competed in Lake Tahoe and signed with Nike, all while training for Premana.
At 21, he was one of the younger runners on the trail in Italy. Around 25 countries were represented in this international race, and most of the competitors weren't rising third years in college. The host country Italy won gold, but the U.S. team, which accumulated enough points (39), clutched silver. Although this certainly was a team effort, one team member helped win the U.S. its medal: young Pollmann, who out of about 150 professional competitors, finished in fourth place.
"It was crazy," said Pollmann. "I don't know what happened. I just remember the race."
The race only reaffirmed Nike's decision on taking Pollmann. As a third-year English major who will graduate in the spring, the runner knew that accepting Nike's sponsorship would mean the end of his racing career at University of Portland. He still goes to practice with his team, but he no longer competes as a Pilot. Despite this, Pollmann's cross country family — especially his head coach — supports him, his success, and the further success still to come his way .
"He provided the passion; we let him go with it," Conner said. "If you put him on the track, he's not as fast as some other guys. But if you need him to go a certain distance, and a certain elevation gain, then nobody is going to beat him."