'Turf man' says goodbye to Merlo
Fields manager Kevin White leaves behind a green legacy
Kevin White stands on Merlo Field after finishing mowing.
Update: According to Athletics Director Scott Laykam, Kevin White has decided not to stay with Wilbur Ellis and is coming back to University of Portland. He starts back full time on Monday.
He had been hired only four days before. It was July 19th, 2015, and University of Portland's third athletic fields manager, Kevin White, was getting Merlo Field ready to host the Portland Timbers 2. White had to learn what to do, and prepare for a professional team, in less than a week.
He made a mistake. It was a small mistake. The line he painted at the end of the field was supposed to match the goal posts. But the line was slightly crooked, putting the goal only a hair in front of the paint. The referees were easygoing about the mistake, but they told him it had to be perfect for the next game.
"Oh it will be," said White. "Don't worry."
It was. And it continued to be. In fact, White's skills are so renowned, he brought home the Field of the Year Award for Merlo in 2016. He even consults with the Timbers field managers on how to keep up their turf. White is known for always being one of the first athletics staff members to show up every day. But only a little over two years after his first day on Merlo, White will be leaving UP to work as a sales rep for Wilbur Ellis, a company that sells agricultural products.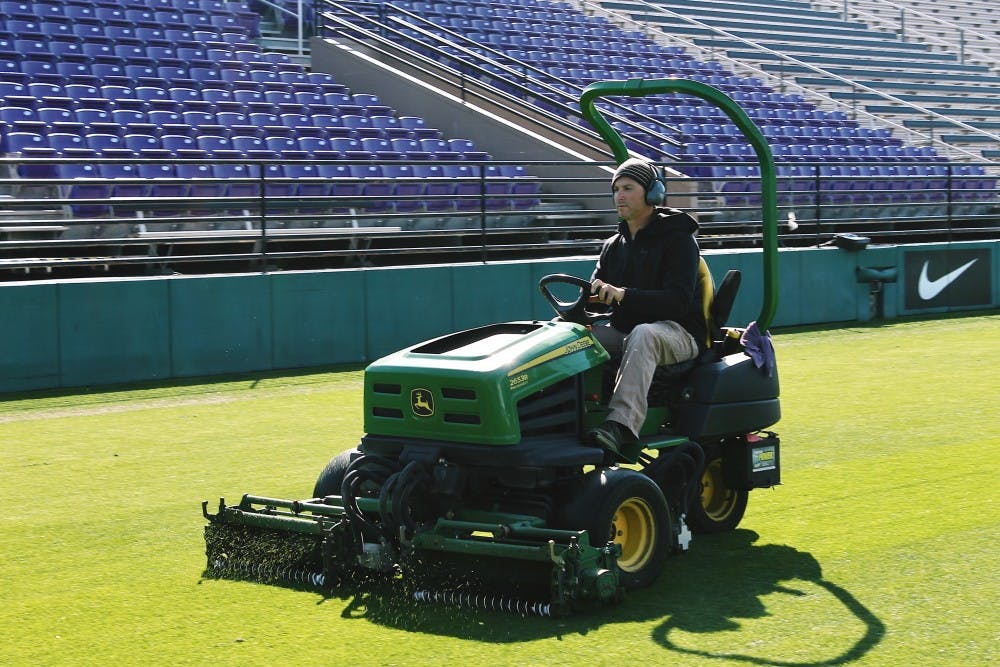 "This opportunity became available that's...hard to pass up," White said. "It allows me to spend more time with my wife, more freedom for taking time off."
As athletics fields manager, White worked on Joe Etzel Field, the two practice fields, and Merlo — without a crew. Other than the few student workers he trains to provide some help on the fields, he is the sole caretaker of UP's renowned facilities. This gives White a lot of control over his work, as he decides things like what fertilizers to use on the fields to what patterns will be mowed on Merlo.